BBVA Participates in Carbonplace's $45 Million Financing Round
The global carbon credit trading platform Carbonplace has raised 45 million dollars in a seed funding round and has been incorporated as its own entity. BBVA, one of the nine founding banks, has participated in this round and has appointed its Head of Carbon Markets at BBVA Corporate & Investment Banking, Ingo Ramming, as a representative on Carbonplace's Board of Directors.
Through this technological solution, BBVA will offer its customers committed to decarbonization direct access to carbon credits to offset their emissions.
Carbonplace is a trading network that connects buyers and sellers of carbon credits through their respective banks. The platform obtained its initial funding thanks to the nine founding financial institutions that originally developed the underlying technology of the project.
BBVA is the only Spanish bank to be part of this network, which also includes BNP Paribas, CIBC, Itaú Unibanco, National Australia Bank, NatWest, Standard Chartered, SMBC and UBS. With this investment, each bank shares equal equity ownership in the new company, which will launch its platform at the end of 2023.
"Carbon markets are a fundamental pillar of our sustainability strategy and an enormous business opportunity. At BBVA Corporate & Investment Banking we accompany our clients and support them in the fundamental task of managing and mitigating their climate risk. Carbonplace strengthens our value chain. Its modern, flexible, and secure technology will enable carbon markets to realize their full potential to drive large-scale climate action," said Ingo Ramming, who will represent BBVA as a member of Carbonplace's Board of Directors.
This capital injection reflects the strong commitment of some of the world's largest banks, totaling nearly 9 trillion dollars in total assets, to drive corporate climate action through transparent, secure, and accessible carbon markets.
Carbonplace will use this investment to strengthen its platform and workforce, thereby allowing it to scale its services to a larger client base of financial institutions. It will also seek partnerships with other carbon market players, such as registries and stock exchanges around the world.
See related article: In 2022 BBVA Channeled €50 Billion into Sustainable Business, a 41% Increase
With its headquarters in London, Carbonplace will be spearheaded by its new CEO, Scott Eaton, a financial technology veteran who most recently chaired capital markets fintech, Nivaura. Previously, he was the head of Algomi from 2018 until its sale to BGC in 2020. From 2015 to 2018 he was COO of fixed income trading platform provider, MarketAxess.
Scott Eaton has described Carbonplace as transforming the way carbon credits are purchased, distributed, and held. "I am excited to take this company to the next level of its evolution, and to help unlock its massive potential to drive significant economic and social value by opening the carbon markets up to the world," he said.
Carbonplace, which has already been likened to the "SWIFT of carbon markets," has piloted transactions with several buyers, sellers, registries and stock exchanges, including the global payments technology giant Visa, and the Singapore-based marketplace, Climate Impact X.
Buyers and sellers will be able to share information in real time to ensure an instant, secure and traceable settlement of transactions to buy, sell or redeem carbon credits. Digital wallets allow the ownership of a credit to be reliably proven to the market, reducing the risk of double counting, and simplifying transparency.
By 2050, according to BloombergNEF estimates, demand for offsets could increase 40-fold to 5.2 billion tons of CO2 equivalent, or 10% of current global emissions.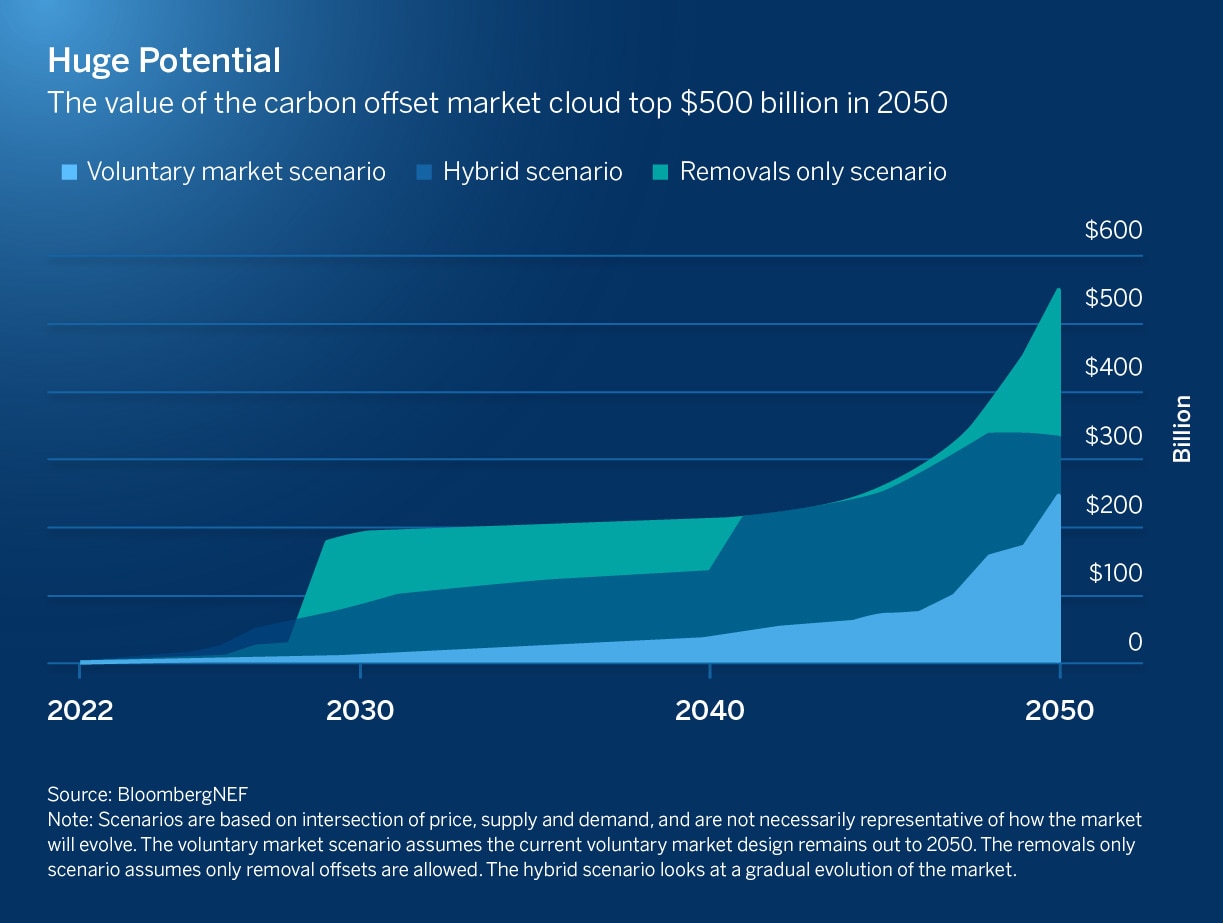 The voluntary carbon market plays a key role in supporting companies' transition to net-zero greenhouse gas emissions as part of their climate action strategies. Companies buy carbon credits to offset emissions they cannot reduce or eliminate. Companies buy carbon credits to offset the emissions they cannot reduce or eliminate.
BBVA views carbon markets as a great opportunity, and announced in April 2022, the launch of a new carbon markets business line that offers its corporate customers the possibility of trading emission allowances and carbon credits.
The financial institution joined the Taskforce on Scaling Voluntary Carbon Markets (TSVCM) in August 2021. It is a taskforce that is working on a roadmap to articulate and strengthen the integrity and transparency of these markets. BBVA is the only Spanish bank member of this taskforce.
As the number of companies committed to reducing their emissions grows, and investor demands for clear and credible transition plans increase, the importance of a voluntary carbon market subject to optimal operating rules becomes more evident.
In these markets, BBVA, through its Corporate Investment Banking division, plays a role in the consolidation of carbon emissions as a financial investment asset in a market that is expected to generate great value and as an advisor, financier and issuer of hedging products for carbon emissions as a financial product.