In 2022 BBVA Channeled €50 Billion into Sustainable Business, a 41% Increase
In 2022, BBVA channeled €50 billion into sustainable business, up 41% from the €35.4 billion mobilized in 2021. The bank has now channeled a total of €136 billion since 2018, when it announced its sustainable business mobilization target through 2025. That target, set initially at €100 billion, was trebled in October 2022 to €300 billion, thanks to the reinforcement of the product offering in the wholesale and retail segments.
"Investments in sustainability are highly attractive economically for both companies and individuals. This enables us at BBVA to undertake this effort, which is critical for society and the planet, as a business opportunity, with strong growth and high returns," said Javier Rodríguez Soler, BBVA's Global Head of Sustainability.
The €136 billion in sustainable finance between 2018 and 2022 has been allocated to the two vectors that guide BBVA's purpose in the field of sustainability: climate action and inclusive growth. This amount includes project and corporate finance, transactional banking, bond distributed and investment products managed or marketed by BBVA.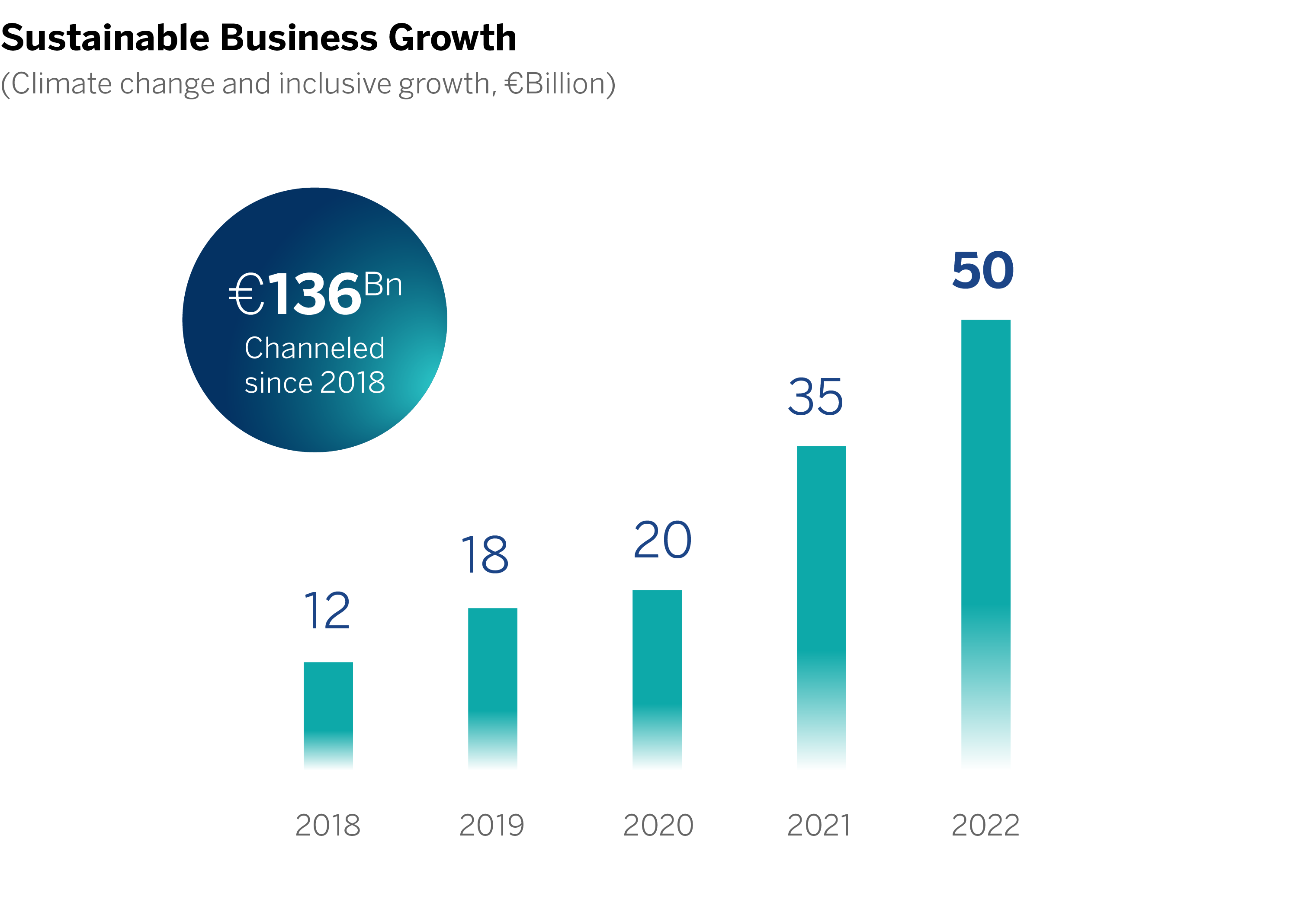 See related article: PageGroup Closes a £80 Million Sustainability Revolving Credit Club Deal Facility Led by BBVA
BBVA's sustainable business in 2022
Of the €50 billion that BBVA channeled into sustainable business in 2022, 81% was allocated to climate change and 19% to inclusive growth. The breakdown by lines of business last year was 67% through big corporations, 21% to companies, 9% to individuals and 3% through the BBVA Microfinance Foundation.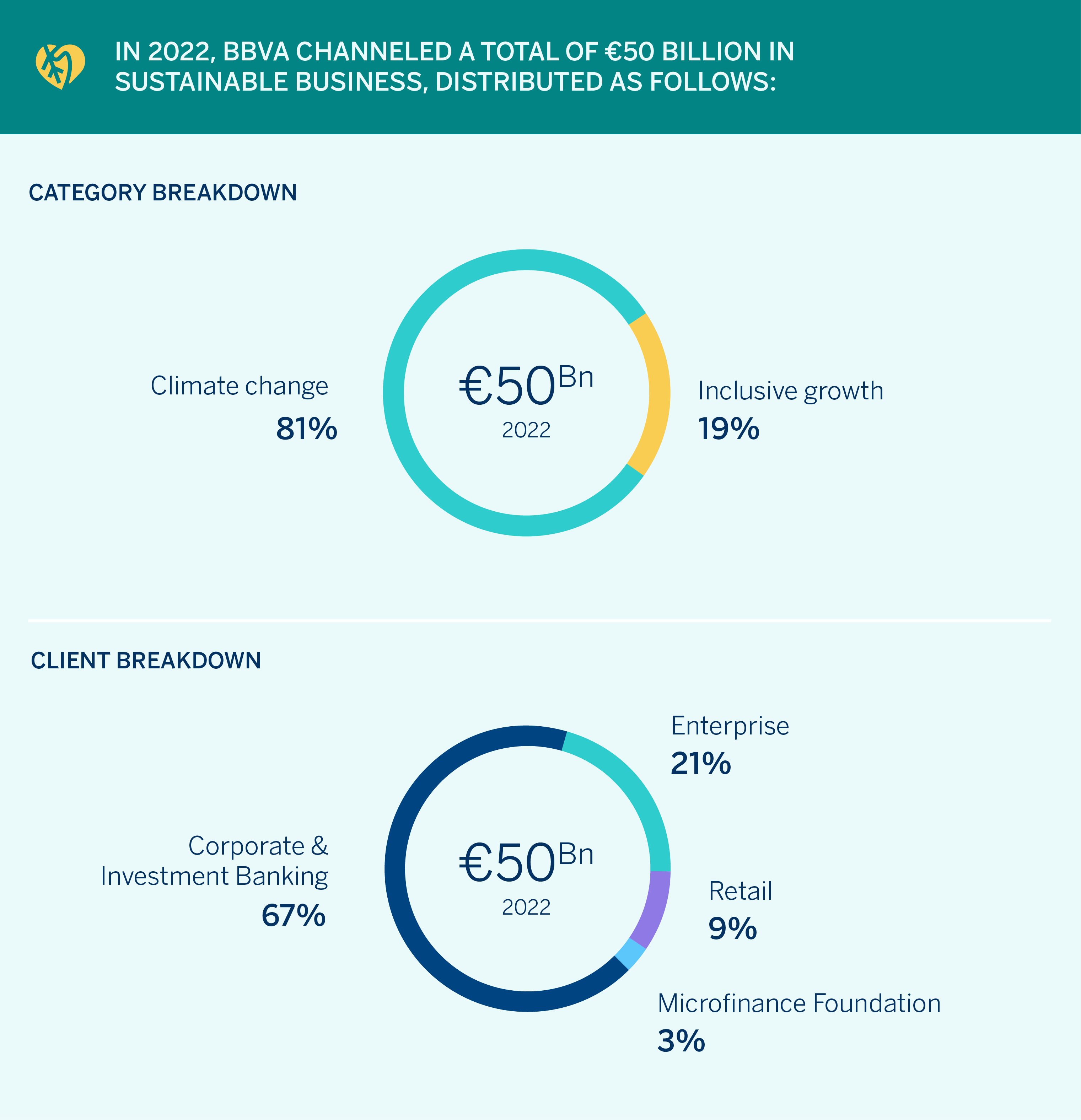 Broken down by product line, 79% of the €50 billion channeled in 2022 related mainly to corporate finance and transactional banking, 16% to bonds distributed where BBVA acted as bookrunner, 4% to project finance and 1% to investment products managed or marketed by BBVA, among others.
BBVA and its commitment to sustainability
BBVA embeds climate change risks and opportunities in its processes. The bank also promotes sustainability in its transactions and products. It currently has a catalogue of sustainable alternatives for its products in Spain and will continue on this path in the rest of geographies where it operates.
BBVA's Sustainable Business Goal 2025 is based on three lines of action: mobilizing business to help curb climate change and promote inclusive growth that leaves no one behind by channeling €300 billion between 2018 and 2025; integrating the environmental and social risks associated with the bank's activity to minimize the potential direct and indirect adverse impacts; and involving all stakeholders to collectively promote the financial sector's contribution to sustainable development.
The bank has also set intermediate decarbonization targets for 2030 in six sectors (energy, automotive, steel, cement, coal and oil and gas).
BBVA is the most sustainable bank in Europe for the third consecutive year according to the Dow Jones Sustainability Index in 2022, the global benchmark for sustainability. It obtained the highest score in the category of banks in the region and the second highest globally.
In 2021, BBVA elevated sustainability to the highest executive level of the organization, reporting directly to the CEO and Chair, and created the global Sustainability business area headed by Javier Rodríguez Soler. The area designs the strategic sustainability agenda, manages the sustainability business, specifies and promotes the lines of work in this area in the various global and transformation units, and develops new sustainable products, in a context in which the employees and areas of the Group integrate sustainability into their day-to-day work.